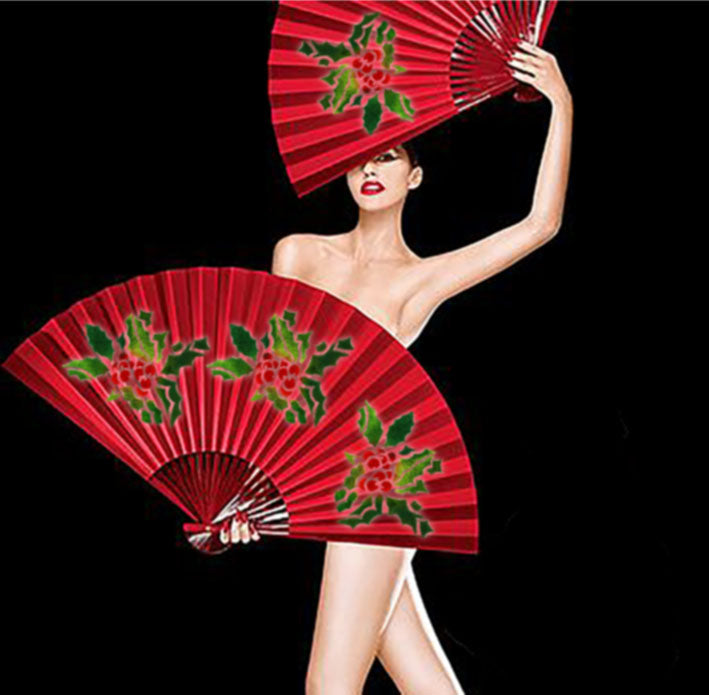 We all know the demands of Christmas can get you feeling pretty hot under the collar, but during a time of the year when it's traditionally freezing outside and we are trying to stay warm inside, how can a hand fan help you keep cool this festive season?
You would be surprised! We fan lovers carry ours at any time and not necessarily because we need to keep cool in the heat. Here is the fan fashionistas guide to deploying a hand fan in sensitive situations that may arise during the holiday period.
Here are some top tips from fan boss, Victoria Speyer. 
Bringing Out Your Inner Disco Queen
Fancy yourself as something of a dance-floor diva at Christmas parties? Bring out your inner disco queen by synchronizing your carefully choreographed dance moves with some flamboyant hand fan movements.  Stay cool, keep those moves tight and remember that nothing says dance-floor diamond like a fan-accompanied freestyle shake down.
Disguising Your Blushes At The Christmas Party
Have you ever caught yourself drunkenly confessing your love to your boss or repeatedly flashing your Rudolph the Reindeer knickers at your co-workers? Perhaps you have been indecently proposed to by the office lech? Disguise your blushes and hide your embarrassment with a hand-held fan, the ultimate shame killing weapon.

Just Because It's Cold, It Doesn't Mean You Don't Get Hot & Bothered
Christmas can be a stressful time, full of hot and bothersome situations. Trapped in a shopping queue with grouchy fellow shoppers? Stuck on a stinky carriage with hordes of other travellers? Wedged into a lift with people carrying lots of bags? Fear not! You are a fan carrier, all you need to do is whip out your fan, flick it open and fan yourself to regain your cool composure.
Buying Presents For Your Loved Ones
If like me you too pull your hair out trying to choose a suitable gift for your friends, family and loved ones, then think of the fan. They make the most interesting gifts and best of all, nobody ever expects to get one. When in doubt, buy a fan for theatre goers, travellers, party animals, glamorous grannies, flushing friends and salsa dancing sisters.
Avoiding Drama During Family Gatherings
Sometimes even the idea of incoming relatives is enough to bring you out in a sweat and at those times you can put away the stress ball and reach for your fan. The mere act of wafting yourself with flagrantly cool air and giving your hand something to do can be enough to lower your boiling point and help you reduce that nervous energy in a glamorous way.
Avoiding Credit Card Meltdowns
On occasion even the thriftiest amongst us can sometimes spend a little too much on the credit card over Christmas and that can make our partners hot and bothered. Is your wife or husband raging over your irresponsible holiday spending? Just fan all of those nasty receipts away into a waste paper bin and forget they ever happened.
Avoiding it all together
If you are still feeling unconsoled by the prospects of the festive fever to come, there is always the option to simply bow out gracefully in favour of warmer climes. With your  trusty hand-fan in tow, you can stay cool while soaking up rays, getting giddy on cocktails and enjoying the high life one hand-waft at a time. Amen.
 The End - In case you didn't know, the author of this article, Victoria Speyer, is the fancy founder of Khu Khu, home of hand-made custom fans and purveyor of cool moments to the rich, famous, savvy, fancy and fashionable people of planet Earth.
Come and check out some of our beautifully designed limited-edition collections, we have different fan vibes ranging from Cool Cats, Tropicana, Social Butterfly, Twist-In-The-Tail, Feathered Beauty and bespoke designs for that individual touch.
All of our fans are handmade with love in Spain from high quality wood that is cut, moulded and finished in a socially sustainable way, and finished with high grade cotton with our unique and exclusive designs.