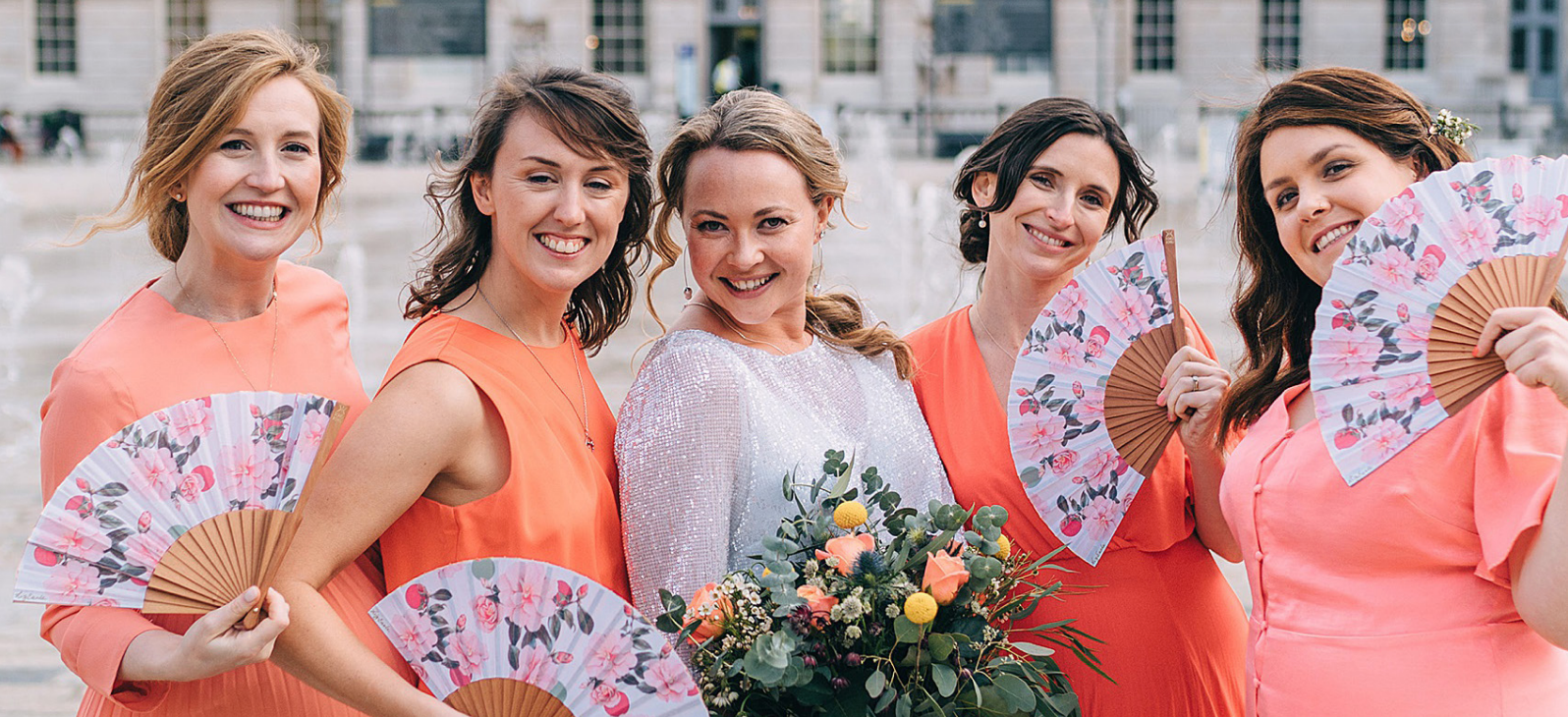 'Khu Khu fans were a triple win at my wedding. The perfect gift, an elegant accent and ESSENTIAL for the hot Italian Summer.'
If you are planning your wedding in Summer, in a hot climate, or you're using a marquee, hand-fans can be a real lifesaver. No-one wants to feel sweaty in their carefully chosen wedding outfit or flustered by the heat, and the best part is they are pretty, handy and can be designed to match your colour scheme. There are a lot of options when it comes to custom hand-fans, from wood types to fabrics, personalisation options to packaging choices, but don't worry, our step-by-step guide will make choosing easy and fun. 
HOW TO PICK THE PERFECT CUSTOM WEDDING HAND-FAN 
Step One - Size
If you own a hand-fan, the chances are it's the 23cm model. This is the classic size - it provides lots of air, has plenty of fabric to show off a print, and can fit in most hand-bags. However, a 19cm fan and a 27cm hand-fan also have their advantages. A 19cm fan fits neatly into an evening bag or clutch, and with a 27cm fan you will really make an impact, (but practical it is less so.) 
STEP TWO - CHOOSE YOUR WOOD 
There are a wide variety of wood types available to suit every wedding size,  style 

and budget. 

 

Imitation beech is a popular choice for large scale events because it is economical and has a pale, matte appearance. This wood is imported into Spain and therefore does not bear the guild of Spanish artisan fan-makers stamp. It doesn't have a polished finish and is lightweight. It can be painted and personalised (embossed or engraved.)
Imitation pear is also popular for its reasonable price and its natural, warm, earthy appearance. It has a good weight and feels solid. This wood is also imported so does not bear the guild of Spanish artisan fan-makers stamp, and it has a faint leathery/ carpentry smell. This is of little significance if just producing a few fans but does become noticeable when shipping large amounts of this wood together. It doesn't have a polished finish and can't be painted. Other personalisation possible.
Sipo is a wonderful wood type and is the most economical choice of the 100% Spanish-made fans. The wood pieces are cut and moulded in Spain using traditional methods and have a lovely polished finish. This wood has pretty grain markings, but the sticks can also be painted. Sipo fans come with the guild of Spanish artisan fan-makers stamp and can be personalised.
Beech is very similar to Sipo in its qualities. 100% made in Spain, bearing the guild of Spanish artisan fan-makers stamp, with a pretty grain. The only difference is perhaps in the shade of the wood. It is paler than Sipo. This wood has a polished finish but can also be painted and personalised.
Mongoy wood and Bobinga wood are premium woods. Made in Spain the traditional way, they are strong and have an exceptionally lustrous polished finish. Mongoy you may be familiar with as it is often used in quality string instruments, Bobinga is similar in feel and weight but has a hint of pink/purple to its hue that can look stunning with certain prints. While you can paint these woods, it is uncommon as the beauty really is in the grain. All personalisation possible.
STEP THREE Painted or Natural Wood?
Both natural wood and painted sticks have their own appeal. Natural sticks often look great with plain fabrics and organic prints, while painted woods have a strong visual impact and can suit brighter more luminous colours. Painted wood takes longer in production and is an additional cost. Pantone colour-matching possible.
STEP FOUR  - FABRIC 
One of the most important decisions is whether to have plain fabric for your wedding fans (available in a wide range of standard colours), or to go for a print. 
Plain colours will always look timeless and can work as a beautiful accent to your other decorations and colour scheme.
A printed fabric is the chance to really personalise your fan. 
There are three main ways to do it:
a) Bespoke Design
b) Image of your choice
c) Match your wedding stationery & illustration
More details on each option are given on the following pages.
A) A Bespoke Design
We'll design you a 100% original design based around an emblem, motif or
theme of your choice. Simply tell us your ideas and we'll do the rest.
b) Image of Your Choice 
If you have an image or photo you'd like to use, we can easily adapt it to our fan
templates. Maybe you would like to use an image of where you were proposed
to? Or a work of art given to you by someone you love.. The choices are endless.
c) Match your wedding stationery & illustration
If you are having custom wedding invitations made by an illustrator of your choice, why not have your fans designed by them too? Simply put us in touch, and we'll guide them through the design template for your chosen fan model. What a lovely touch to have your fan designs in keeping with the rest of your wedding aesthetic.
STEP FIVE  Detailing
Engrave or Emboss
It is possible to emboss or engrave the end sticks. 
When you emboss the emblem/ writing is printed onto the sticks and adds a special touch to your fan. You can choose between classic gold or silver or go for a specific colour.  When you engrave the emblem/ writing is engraved into the wood creating a relief surface. 
Painting the Fabric Rim
The edge of the fabric looks very beautiful when painted with a thin line of paint. It also can avoid future fraying. Silver and gold are the classic choice but other colours can be sourced on request.  
Adding a Tassel
Would you like a tassel or hanging pendant with your fan? With the 23 and 27cm models we can add a loop or a ring from which to hang the tassel of your choice. You can either send us the tassel or an hanging item of your choice, or we can source something for you. 
Speciality Fans - The Bride
For your big day perhaps you're looking for something even more exclusive. We have access to the finest fan artisan in the world, so if it's ornately carved sticks you're looking for, or fans using exclusive materials such as fine lace, tulle and mother of pearl, we can source the fan of your dreams.
Other Fan Models - The Guests

We hope you have enjoyed this introduction into choosing the perfect wedding fans for your special day. There are certainly lots of decisions, but all of them FUN. 
For our comprehensive Wedding Catalogue and price list  simply contact us at info@khukhu.com