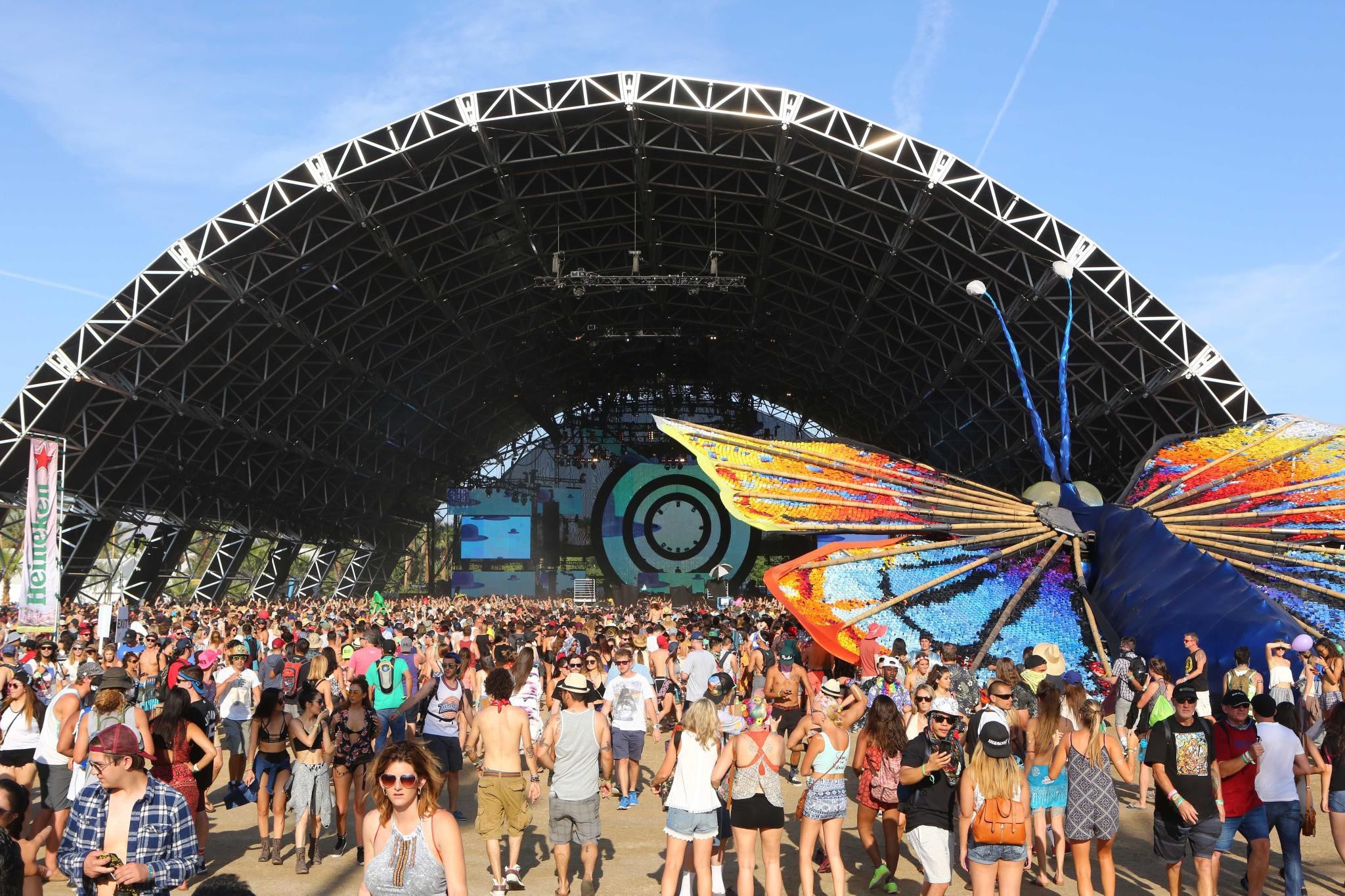 Yes, Summer is coming and with it all the festivals we love. It's time to ditch the weary work wardrobe and get bold, happy and glittery of course! We all love to see the fabulous outfits that people have bought/made/painted on (!) so make sure you don't miss out and get yourself festival ready too. Here are some Khu Khu appropriate favourites from this year's Coachella.
      Instagrammers @sukilov_ with the Lazy Leopard fan and @victoria.jancke with the Green Parakeet 
Instagrammers @boho.generation with the Let's Dance hand-fan and @americanstyle with the Love Lynxes 
Instagrammers @germanbloggerinspo with the Blow Me hand-fan and @minimalmajor with the Blue Lyca. 
But which festivals to go to? Tricky decisions!
It's true that the big cats, Glastonbury, Tomorrowland and Burning Man are always fun on an epic scale, but this time the Khu Khu team have compiled a list of some of the smaller boutique festivals from around the world; some you maybe haven't heard of yet. If you like good music and good times without feeling like your surround sound is people, you will surely love them all. They're more niche and intimate, with that magical sprinkling of something different.
 - GOVERNERS BALL May 31 to June 2:
A three-day, multi-stage music festival on Randall's Island in New York City on May 31 - June 2, 2019. Yes please to a trip to the big juicy apple with artists such as Florence and The Machine and The Strokes headlining this year.  https://www.governorsballmusicfestival.com/
 - HEARTLAND FESTIVAL May 30-June 1:
One of the most charming places in Denmark is the setting for this amazing festival, combining the best of music, contemporary art and the food scene. If you ever needed an excuse to visit this stunning country, going for 3 days of entertainment in a unparalleled scenic spot overlooked by a castle might just be the reason you need. Link to the website: https://www.heartlandfestival.dk
- LOVE SUPREME FESTIVAL 5 - 7 July:
LOVE SUPREME FESTIVAL is the only UK based jazz festival with camping, so if you like some sleeping bag with your sax (all the major players too).. check this one out. And don't forget your BLOW ME fan https://lovesupremefestival.com/#fU43FdpW4xxOMB3j.97
 - BLUEDOT FESTIVAL 18-21 July:
The Jodrell Bank Observatory in Cheshire, England, is where the Bluedot Festival takes place. Here you can enjoy music, art, and live science experiments. Discover more at: https://www.discoverthebluedot.com/lineup/2019
 - WILDERNESS FESTIVAL 1-4 August:
This festival has something for everyone: great food, music, theatre and a long list of outdoor activities, they all come together in Cornbury Park, Charlbury (UK). One for the civilised set but still enough mischief to make it fabulous.  More info: https://www.wildernessfestival.com
 - HOUGHTON FESTVIAL, 8 -11 August:
This one stands out as an festival of sytle and substance and ideal for people that love a beautiful setting along to electronic music. The focus here is on quality sound with bespoke sound systems from d&b audiotechnik for some seriously ear-pleasing boom boom. https://www.houghtonfestival.co.uk/
- LOST VILLAGE, 22- 25 August:
Straight out of a fairy tale, that's what how this 3-day festival looks like. Located in an abandoned village in Lincolnshire (UK), the event is full of activities to immerse yourself in the woods and be part of a unique experience. Visit: https://lostvillagefestival.com
 - STRAWBERRY FIELDS - TBC - Mid November, 2019
Feeling like you want to skip the European Winter? Or in mourning after the end of the Summer festivals? Well you can head to Melbourne's Strawberry Fields Festival  - perhaps not boutique (I've a feeling this sensory feast of creative expression with fantastic Australian and International electronic music, art installations and eclectic stalls might actually be kind of BIG), hanging out in the Australian bush waving your fans and hands up in the air sounds like a perky November activity to me.  https://www.strawberry-fields.com.au/
As you can see, the catalogue of festivals you can go to is insane, but whether you're into big festivals with thousands of people or prefer smaller scale gatherings like those detailed above, they all have one thing in common: the sticky hot weather!!! Blow it away Khu Khu style and have fun.
Excited to see you all on social media soon being fan and festival fabulous. 
Victoria and the Khu Khu team
x