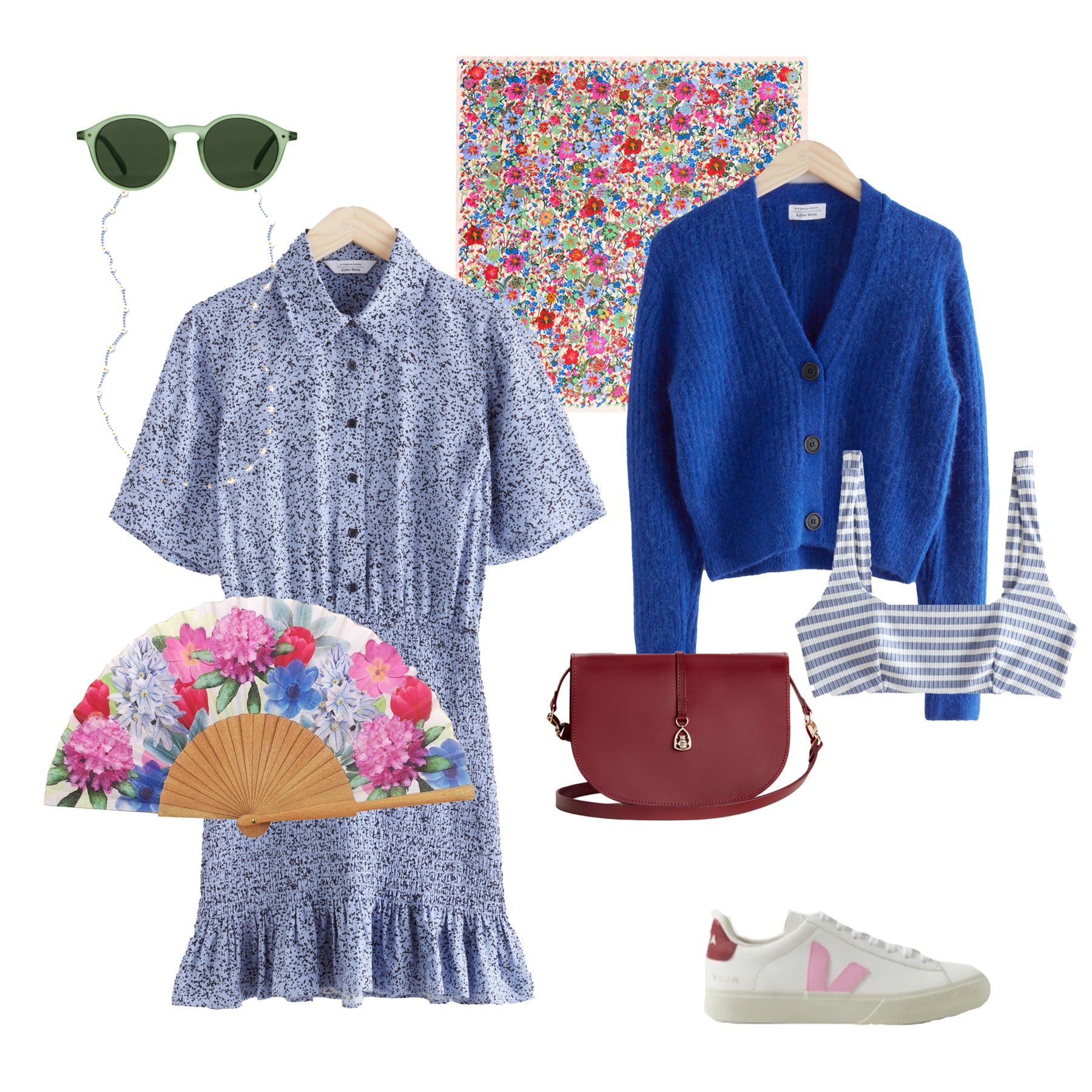 SPRING IS HERE and we have reason to be hopeful after a very difficult year! Spring has always been associated with new beginnings, new life and positivity and this year is no different. With an increase in vaccinations, long-awaited reunions are taking place, we are seeing the return of social and cultural activities and the promise of travel is close on the horizon!!
In this entry, we are bringing you a some styling suggestions for your Spring/ Summer wardrobe with our SPRING hand-fan as your heat-busting companion. It's time to put away the heavy coats, ditch the wool and have fun with colour and joyful prints. First up, 
EVERYDAY 
Whatever fills your Monday to Friday, it's most likely you want to be comfortable and stylish. This beautiful cardigan from Claudie Perlot is such a great staple. The contrasting pale green knit and blue denim trim will come in super handy and it even has a soft sparkle that you can't pick up in the image. Lovely. This teamed up with any denim will work. We love this Whistles frock as it's comfortable but smart enough for work with its collar and button up detailing, the green shades from Nooz optics are just the right colour, and we love both the bags. Go with one, or both for some shopping space #nomoreplastic. 
BEACH
Going a little Amalfi Coast with this one, but it's where the fan took me! I love the sun-shade hat from Urban Outfitters, I would definitely tie a scarf round it for a splash of colour, but stand alone it's still lovely. Maybe inconvenient if you have bangs.. but perfect for loose tussled hair! Everything screams La Dolce Vitta en this line up from the Bottega Vinetta sunglasses to the Dolce and Gabbana scarf. A negroni and a sun lounger anyone? Yes please. 
Hand-Fan- Khu Khu 
Language of Flowers  -Novel by Vanessa Diffenbaugh
Bikini - Maygel Coronel   Available from Matches 
Shoes - Etsy (Daphne Sandals)
Silk Scarf- Dolce and Gabbana
Rug - Maggazino
Sunglasses- Bottega Vinetta
Bag- Muun Straw Bag Available from Matches 
Hat- Urban Outfitters ( This is a link to a very similar on on Surfdome as I think the UO one must be sold out already )
WEEKENDER
The perfect little outfit for a fun day out. I love &Other Stories - for quality and providing wearing pieces with a little twist. This dress is pretty, but with the ruched elastic area, it's sexy too, and with all these wonderful accessories you are going to bounce through the day feeling super!
PARTY
All these florals fit perfectly with the 60's and 70's revival for flower-power, mini skirts, platforms, knee highs and headscarves.  In this outfit we chose a few of our favourite things from our affiliates Wolf and Badger - representing independent brands since 2010, they are the best place to go find wonderful things you won't be able to find on the high street. 
WEDDING
Here comes the .. Best dressed wedding guest! Again, we found a lot of these lovely finds on Wolf and Badger such as the stunning butterfly sleeve silk dress from Sonya Fern Green, the beautiful bejingelry from YOJ. (honestly I would most likely layer lots more of their lovely pieces, but it doesn't work so well on a flat image) The Pashmina from Pure Kasmir has the most amazing hand-stitched detailing and is perfect for outdoor flirting at the reception :) The clutch from Cult Gaia is a stunner and thankfully a decent size for you to fit all the wedding essentials. Camera, handkerchief and the rest. 
Chain- Astley Clarke available from Wolf and Badger